In a world where shopping is easier and faster than ever before, it's no wonder that e-commerce has become one of the most thriving industries of our time. From the comfort of our own homes, we can order anything we want - from food to clothes to electronics - with just a few clicks. But to provide a seamless online shopping experience, an online store must first be set up. There are a number of issues that need to be addressed before the first online sale can be made: How do I even create an online store? Which online shop provider is right for me? How can I continually improve my existing online store? And many more. 
Do you need help? You've come to the right place. Read our blog post to find out how to create a successful online shop step by step, which online shop providers are recommended and how you can optimise your existing online shop.
What is an e-commerce platform?
An e-commerce platform is a virtual marketplace that enables companies and individuals to present, sell and manage products and services online. These platforms offer a variety of tools and features that make it easier for businesses to create, operate and scale their online store. From product display and payment processing to inventory management and customer support, an e-commerce platform provides a comprehensive solution for conducting e-commerce activities.
Modern e-commerce platforms offer a variety of functions, including:
Customisable templates and designs to customise the look and feel of the online shop
Integrations with various payment gateways to ensure secure and smooth transaction processing.
Inventory management tools to keep track of product stocks, stock levels and delivery times.
Marketing and SEO tools to increase the visibility of the online shop in search engines and boost traffic.
Customer management tools to maintain customer relationships and offer a personalised shopping experience.
Analysis tools and reports to measure the success of the online shop and identify potential areas for optimisation.
An effective e-commerce platform forms the foundation for the success of an online shop and can help companies to increase their sales, attract new customers and build long-term customer relationships.
How to create an online shop
1. Choose a suitable online shop provider: 
Before you start creating your online shop, it is important to find the right provider that meets your individual requirements and goals. Consider aspects such as user-friendliness, customisability, costs and technical support. In the next chapter, we list the best providers for online shops.  
2. Register and choose a domain name:
After selecting the provider, you need to register and choose a suitable domain name for your online shop. A concise and easy-to-remember domain name can help increase brand awareness and improve recognition potential.

3. Choose an appealing design and layout:
The design and layout of your online shop play a crucial role in the user experience. Choose an appealing and user-friendly design that reflects your brand's aesthetic while allowing for seamless navigation and easy product discovery.

4. Add products and descriptions:
Upload high-quality product images and add detailed and engaging descriptions to appeal to potential customers. Clear product information, including prices, sizes, colours and materials, can help build customer confidence and make the purchase decision easier. For larger companies with a broad product range, the use of a product information system can also be useful.  

5. Configure payment options and shipping:
Make sure your online shop offers a secure and diverse selection of payment options to provide your customers with a convenient and trustworthy checkout experience. Also provide a clear presentation of shipping options and costs to ensure transparency and customer satisfaction.
6. Continue to optimise your online shop:
Once your online shop is up and running, it is important to continuously optimise it. From technical aspects to search engine optimisation (SEO), there is a lot to do. 

By following these steps and using the right tools and strategies, you can create an attractive and functional online store that will help you grow your business and maximise your sales potential.
Online shop providers
at a glance
Choosing the right online shop provider is a crucial step in creating your own online shop. There are now numerous providers for a wide variety of needs. To make it easier for you to choose, we present the best-known online shop providers below: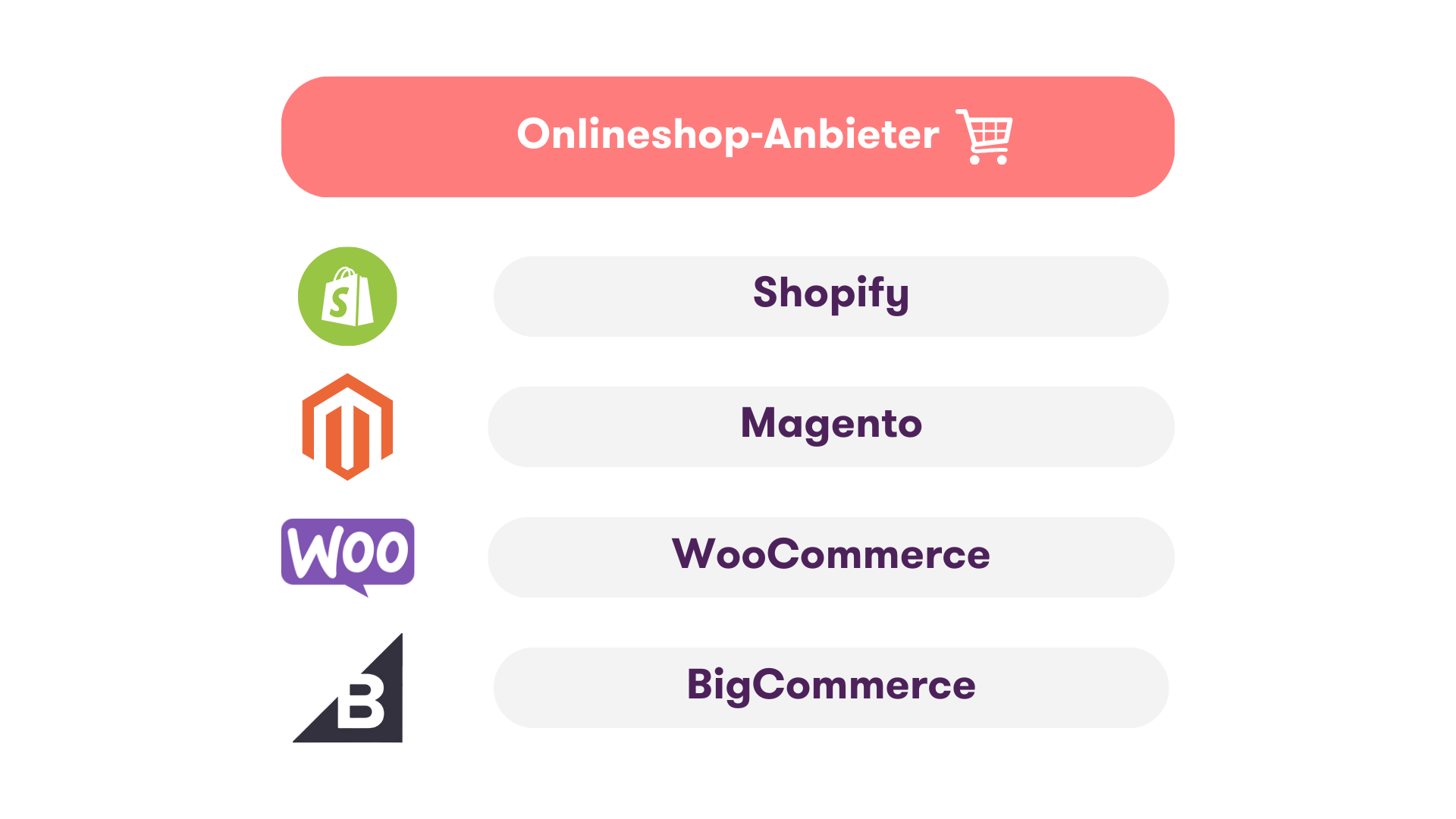 Shopify
Shopify is one of the best-known e-commerce platforms that enable businesses and individuals to effortlessly create, run and scale their own online shop. With its user-friendly interface and a variety of tools and features, Shopify has established itself as a popular choice for small businesses.
One of Shopify's main strengths lies in its intuitive user interface, which allows even beginners:inside to create a professional-looking online shop in no time at all. With a variety of appealing templates and designs, you can customise the appearance of your shop and give it a personal touch. In addition, Shopify offers a wide range of integrations and apps to extend the functionality of your online shop. From payment gateways and shipping solutions to marketing-Ttools and analytics.
Advantages
Intuitive user interface for easy online store setup and management
Suitable for beginners
Wide range of attractive templates and designs to customise the look and feel of your shop
Wide range of integrations and applications to extend the functionality of your online store
Robust security infrastructure to protect sensitive customer data and transactions
Disadvantages
Limited customisation for users with complex requirements or special functionality
Possible additional costs for certain applications and extensions not included in the standard package
Reliance on third-party applications for some advanced features, which may incur additional costs
Magento
Magento is one of the leading open source e-commerce platforms that provides businesses with a robust, adaptable and powerful solution for the creation and management of online shops. With its numerous customisation options and expandable functions, Magento is the first choice for companies with complex requirements and extensive product ranges. Whether you are an established company with growth plans or an emerging business with specific e-commerce requirements, Magento offers the desired flexibility and scalability.
One of the largestssthe strengths of Magento are the extensive customisation options that allow companies to adapt their online shop to their individual needs. The e-commerce platform is therefore ideal for companies that operate a high-performance online shop.
Advantages
Extensive customisation options to create a bespoke online store to meet specific requirements
Scalability for businesses with growing needs and extensive product ranges
Active community with ongoing support and regular updates
Wide range of integrations and extensions to extend the functionality of the online store
Easy integration with third party services
Disadvantages
Higher technical requirements and expertise to set up and manage the platform
Higher initial investment compared to other ecommerce platforms, especially for smaller businesses with limited budgets
More complex interface and set-up process
WooCommerce 
WooCommerce is another open-source e-commerce platform that acts as a plugin for WordPress, allowing users to easily and effectively create and manage their own online shop. With its seamless integration with WordPress and a variety of extensions and themes, WooCommerce offers a user-friendly solution for small businesses to offer their products and services online.
Advantages
Seamless integration with WordPress for easy online store setup and management
Wide range of extensions and themes to customise the look and functionality of the shop
User-friendly interface that allows even beginners to create and run a professional online shop
Active community and comprehensive documentation for ongoing support and update
Disadvantages
Online store performance may depend on the quality of the WordPress hosting, which may involve additional technical requirements
Dependence on third-party plug-ins for some advanced features, which may incur additional costs
More complex setup and configuration than dedicated ecommerce platforms
BigCommerce
BigCommerce is a hosted ecommerce platform focused on scaling and growing businesses. It offers a comprehensive suite of features and integrations designed for businesses of all sizesssare suitable.
Advantages
Comprehensive suite of features including SEO optimisation, marketing tools and multiple payment gateways
Scalability for businesses with growing needs and an extensive product catalogue
Dedicated support team for ongoing assistance and problem resolution
Built-in security features to protect sensitive customer information and transactions
Disadvantages
Potentially higher cost compared to other e-commerce platforms, especially for smaller businesses with limited budgets
Higher technical requirements to set up and manage the platform compared to more user-friendly solutions
Possible limitations on customisation and adaptation compared to open source platforms
Optimising your own online shop
Ongoing optimisation of your online store is critical to running a competitive e-commerce business and increasing sales. By regularly reviewing and adjusting the performance, usability and effectiveness of your online store, you can improve your customers' shopping experience and increase your conversion rates. From improving load times and mobile user experience to implementing effective marketing strategies and optimising product presentation, there are a number of measures that can help optimise your online store and increase sales.
Conclusion and summary
Creating your own online shop is a worthwhile investment in the ever-changing e-commerce landscape. By carefully selecting the right online shop provider and implementing proven optimisation measures, companies can build a successful e-commerce business. In this blog, we have explained step-by-step how to build and operate a solid online shop. We've also highlighted the pros and cons of some of the leading online shop providers such as Shopify, Magento, WooCommerce and BigCommerce to help you choose the right platform. Should you need help with the creation or operation, please do not hesitate to contact us at contact us to start your e-commerce project. We will be happy to support you.
Autor:in
Alena Klemenjak arbeitet im Digital Marketing- und Kommunikationsteam von Arcmedia. Sie beschäftigt sich mit allen Fragen rund um Social Commerce, Social Media, Marketing Automation und Suchmaschinenmarketing. Auch bei anderen Digital Marketing-Themen gibt sie gerne Auskunft.