Choosing the right e-commerce platform can be a daunting task for businesses. In this in-depth guide, we will introduce you to the open source platform Magento in detail. Whether you are already a Magento expert or are still in the decision-making phase: Our blog post gives you a comprehensive overview of Magento's features and best practices.
What is Magento? 
Magento is a leading open source e-commerce platform owned by Adobe Inc. and has established itself as a major solution for online merchants worldwide. Magento's strength lies in its open source nature, which enables a universally accessible code base. This gives developers the freedom to make any customisations to meet a company's specific requirements. The platform is written in PHP and based on Zend Framework.
Thanks to its flexible architecture, Magento offers a wide range of features that enable companies to create highly customisable and powerful online stores. This flexibility has helped Magento gain popularity and support from a rapidly growing community of developers and businesses. With nearly 250,000 online stores powered by Magento worldwide, the platform is a strong competitor to other e-commerce solutions such as Shopify, WooCommerce, Bigcommerce and the like, as can be seen in the chart.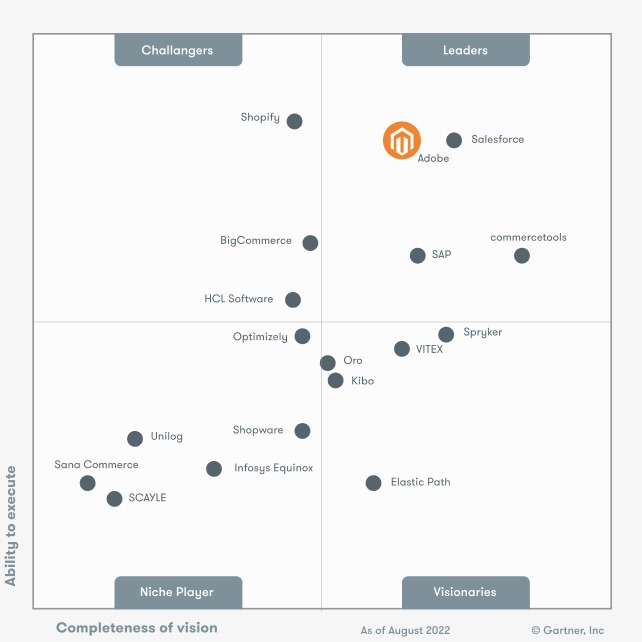 Magento Open Source or Magento Commerce? 
Magento, the e-commerce platform from Adobe, is available in two versions: Magento Open Source and Magento Commerce (also known as Adobe Commerce). Although they share the same core, they differ in their additional features and associated costs.
Magento Open Source, formerly known as Magento Community Edition, is the free version that can be downloaded as open source software and run on your own servers or hosting services. Many companies prefer Magento Open Source because of its low cost, flexibility and wide range of features.
Magento Commerce or Adobe Commerce is the paid version with an extended feature set, designed for companies with larger budgets and more complex requirements. It includes all the features of Magento Open Source, plus additional features such as B2B functionality, Business Intelligence (BI) dashboards, advanced marketing tools and product recommendations based on Adobe Sensei.

While it may appear that Adobe favours Magento Commerce, both solutions are excellent, constantly evaluated and regularly updated. The decision between Magento Open Source and Magento Commerce therefore depends on the company's specific requirements and budget. Magento Open Source is ideal for smaller companies or beginners, while Magento Commerce with its extended functionality is a good solution for larger companies with growing needs.
Extensions and modules of Magento
Magento's versatility and extensibility make it a top e-commerce solution. The world of Magento extensions is rich and offers a wide range of features to optimise the performance of your online store. Whether you want to improve the user experience, strengthen your SEO strategy or increase security, there is an extension for it.
Installing and managing modules
Installing Magento extensions is a seamless process thanks to the integrated marketplace and composer system. After purchasing or selecting a desired extension, shop owners can install it directly through the admin panel. Management is centralised, making it easy to update and deactivate extensions. Installing custom modules requires some technical expertise, but Magento provides comprehensive documentation to facilitate the process.
Recommended extensions for different requirements
Choosing the right extensions depends on the specific requirements and goals of the online shop. It is advisable to regularly check for updates and ensure that the extensions are compatible with the current Magento 2 version to ensure smooth operation.
The pros and cons of Magento
As a leading e-commerce platform, Magento offers impressive benefits, including customisability and comprehensive functionality. But it also comes with challenges, such as complex setup and potentially higher resource requirements. A deeper understanding of the pros and cons is crucial for businesses looking for a powerful e-commerce solution. We have listed the most important ones below:
Advantages 
High customisability and flexibility: Magento enables the adaptation of design, functions and processes to meet the individual requirements of a wide range of online shops.
Scalable architecture for growing requirements: Magento is designed for growth and can easily grow with the success of the company without compromising performance.
Comprehensive functions and integrated marketplace for extensions: The platform offers a wide range of functions out of the box and enables easy access to numerous extensions for additional features through the integrated marketplace.
Open source nature enables cost-effective implementation: As Magento is open source, there are no licensing costs, which lowers the barriers to entry for companies and minimises development costs.
Powerful SEO tools for improved visibility: Magento offers integrated SEO functions that make it possible to maximise the visibility of the online shop in search results.
Support for extensive product management: Magento allows companies to efficiently manage a large number of products, which is particularly beneficial for extensive product catalogues.
Disadvantages
Complex initial setup requires technical expertise: Setting up Magento can be challenging for inexperienced users and requires knowledge of web development and server administration.
Higher resource requirements affect hosting costs: Due to its powerful features and scalability, Magento may incur higher hosting costs, especially for businesses with large traffic.
Steep learning curve for inexperienced users: New users need time to familiarise themselves with Magento's complex structure and features, which can mean a steep learning curve. Magento agencies, detailed documentation or the large Magento community can help with this.
Potentially higher maintenance effort for updates and extensions: When using extensions and updates, careful maintenance is required to ensure that all components work together smoothly.
Myths about Magento
When Magento agencies take on Magento projects, we often encounter critical comments about Magento and perceive doubts. The false myths that sometimes exist in people's minds are debunked below and we show you that the widespread prejudices about Magento are often based on inadequate configuration, lack of maintenance or incorrect application:
Magento is slow
A myth that is not true. The speed of Magento depends on various factors, including the hosting infrastructure and the right configuration. With professional hosting and efficient optimisation, Magento can offer very high performance and fast loading times.
Magento is not up to date
Magento is a living open source platform that regularly releases updates and new versions. Check your Magento shop regularly or contact your Magento agency. However, a professional Magento agency is characterised by the fact that it takes over the monitoring of updates and versions for you.
The performance of Magento is poor
Yes, this can be the case. BUT this is largely due to incorrect configuration and lack of maintenance. Magento can become a robust and fast e-commerce platform through proper server resources, efficient coding and regular maintenance.
Magento generates too little revenue
Sales in a Magento shop are influenced by various factors, including product selection, marketing strategies and the user experience. It is therefore of great importance that the planning of a Magento project is always carried out from a strategic, holistic perspective.
Magento shops have a poor user experience (UX)
This myth is also incorrect. Magento can be improved by choosing a suitable theme, optimising the navigation and implementing user-friendly functions. The variety of professionally designed themes and the flexibility of Magento allow customisation for an optimal user experience (UX).
As you can see, the speed, timeliness, performance and revenue generation of a Magento shop can be improved through professional hosting, efficient coding and strategic planning. Therefore, working with a professional Magento agency is highly recommended if you are unhappy with the current performance of your Magento shop. As an experienced Magento agency, Arcmedia is here to satisfy you and professionally take your e-commerce business to the next level.
Upgrades and migration
Upgrades and migrations are critical aspects of a Magento shop's lifecycle. A well-thought-out upgrade and migration strategy is important to ensure the long-term success of Magento-based e-commerce. For example, upgrading Magento versions not only provides access to the latest features and security updates, but also ensures that the store keeps pace with the ever-changing demands of the e-commerce industry.
Migrating from Magento 1 to Magento 2 requires a structured approach, offering the opportunity to take full advantage of the latest version, but also presenting challenges such as data migration and extension customisation. Other important considerations include ensuring data integrity, testing functionality and minimising downtime. It is therefore advisable to seek professional assistance from a Magento agency during upgrades and migrations to ensure a smooth transition.

It is also important to note that regular updates are provided not only for Magento itself, but also for the installed extensions and modules. These updates include bug fixes, security patches and compatibility improvements to ensure that your Magento shop will continue to run smoothly in the future.
Magento security
The security of a Magento onlineshop is crucial, as e-commerce platforms are often the target of cyber attacks. To ensure a robust security structure, best practices for your online store are essential.
Best practices for securing your Magento shop:
Using strong passwords and updating them regularly are fundamental steps to secure access to the backend.
Restricting administrator access to authorised IP addresses minimises potential risks.
SSL encryption is a must to protect sensitive data during transmission.
A web application firewall (WAF) protects against common attacks by detecting and blocking malicious traffic.Regular security audits identify vulnerabilities and enable prompt remediation.
Updating Magento 
Regularly updating Magento is crucial for fixing security vulnerabilities and implementing new features. The Magento security team regularly publishes security updates, which should be installed promptly to close potential points of attack. The update should always be carried out in a test environment to ensure that existing functions and extensions remain compatible.
Protection from malware and threats
Installing security extensions such as Sucuri" or MageReport" enables continuous monitoring for malware and potential vulnerabilities. Regular scans are important to detect suspicious activity at an early stage. In addition, a reliable backup solution is important to ensure a fast recovery process in the event of an attack.
A comprehensive approach to security requires not only technical measures, but also team training to promote awareness of security practices. By implementing these best practices and regularly updating Magento, you can ensure a secure shopping experience for your customers and minimise potential risks.
Future of Magento 
The future of Magento promises exciting developments and innovative trends that will continue to shape the e-commerce landscape. Current trends show increased integration of AI and machine learning for personalised user experiences, as well as advanced analytics for data-driven decisions. Magento is expected to strengthen its position as a leading e-commerce platform by focusing on improved performance, scalable architecture and enhanced user experience. New features and updates are likely to focus on the seamless integration of omnichannel strategies, enhanced mobile commerce capabilities and advanced security measures. With a clear commitment to innovation and adaptability, Magento will continue to play a key role in shaping the digital commerce landscape.
Conclusion
Our blog provides a comprehensive insight into the Magento e-commerce platform. We highlight the fundamental differences between Magento Open Source and Magento Commerce as well as the variety of extensions, challenges and benefits of this leading solution. The customisability, scalability and extensive features make Magento the optimal choice for businesses. Careful selection of extensions, attention to security aspects and a strategic approach to upgrades and migrations are crucial for long-term success. Although Magento is a powerful solution, operating an online shop based on Magento requires extensive expertise. The Magento agency Arcmedia specialises in Magento projects and has extensive expertise. Do you need support for your existing Magento shop or are you planning to introduce this e-commerce solution? Contact us to get your project off to a successful start.
Autor:in
Alena Klemenjak arbeitet im Digital Marketing- und Kommunikationsteam von Arcmedia. Sie beschäftigt sich mit allen Fragen rund um Social Commerce, Social Media, Marketing Automation und Suchmaschinenmarketing. Auch bei anderen Digital Marketing-Themen gibt sie gerne Auskunft.